FRESH fish home delivery with The Seabird System™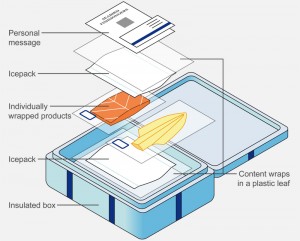 If you've never ordered fresh fish online before it must seem like a bit of an alien concept.  We can offer fresh fish home delivery because we are 100% sure that we've developed a system that delivers fishmonger-fresh fish and seafood direct to your door. 
Here's how we do it:
When we receive your order we select the freshest possible fish and seafood (usually straight from the market)
We check every single fillet to ensure it's of the highest possible quality and then vacuum-pack them,  sealing the freshness in (sometimes, depending on the fillet, we will pack in pairs)
Each pack is then weighed and clearly labelled
We place your fresh fish in an insulated box along with specially designed icepacks and a delivery note
It's then collected by our courier company and will be delivered to your door within 24 hours (2 days for Highlands).
In the interests of quality control, our delivery days each week are Tuesday, Wednesday and Thursday between 9am and 5pm. If you're looking to get delivered on Tuesday, please place your order on Friday or Saturday as the shop is closed on Sundays and Mondays and we may have to order fresh fish ahead so we can be ready to deliver on Tuesday.
Because of the way we seal in the freshness, your packs can be stuck straight in the freezer with fishmonger-freshness fish preserved for anything up to four months.
The following postcodes can take 2 working days:
HS1 – HS9, IV41 – IV56, KA27 – KA28, KW15 – KW17, PA20, PA41 – PA49, PA60 – PA78, PH42 – PH44, ZE1 – ZE3
Got any questions? Why not check out our frequently asked questions or contact us directly.
We also got sent a lovely little video clip from one of our satisfied Glasgow customers who filmed the opening of the box! It's worth checking out as it gives you a really good idea of how great our packaging and delivery process is.