Appetisers are a great way to kick-off a meal with loved ones or engage conversation with your neighbours. It is a key moment of dinner parties in France and we thought it would be a great addition to any Christmas menu. So today we are sharing some of our favourite recipes for festive appetisers.
Oysters with Festive Mignonette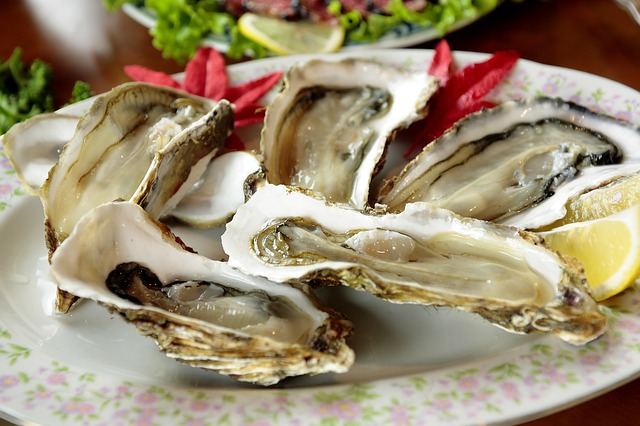 Oysters with festive Mignonette
A festive favourite, oysters always add a little something to meals. This twist on a classic mignonette is super easy to make and will make a great impression on your guests.
Ingredients
1 tablespoon pink peppercorns
1 tablespoon green peppercorns
1 tablespoon fennel seed, lightly toasted
½ cup red-wine vinegar
½ cup champagne vinegar
½ teaspoon salt
2 dozen fresh oysters
Instructions
In a small bowl, combine peppercorns, fennel seed, vinegars, and salt.


Shuck oysters just before serving; arrange on a bed of crushed ice.


Drizzle with mignonette, or serve on the side. Serve immediately.
Crab Puffs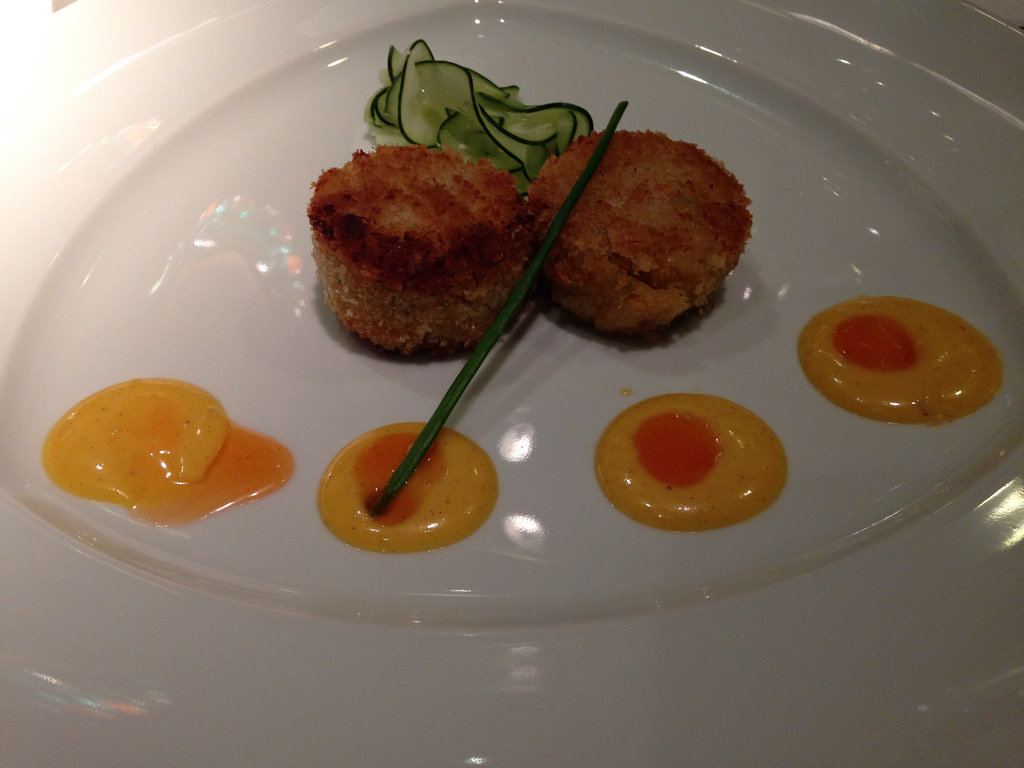 Crab Puffs
These crab puffs are not too tricky to make and are rich and indulgent.
Ingredients
4 tablespoons unsalted butter
¼ cup minced shallot (from 2 shallots)
¼ cup plus 2 tablespoons all-purpose flour
1½ cups whole milk
115g lump crabmeat
⅓ cup grated parmesan cheese
1 tablespoon minced fresh flat-leaf parsley plus ¼ cup whole leaves, for garnish
½ teaspoon finely grated lemon zest
Cayenne pepper
Coarse salt and freshly ground pepper
3 large eggs
1½ cups fresh breadcrumbs
Vegetable oil, for frying
2 tablespoons large brine-packed capers, rinsed and dried, for garnish
Instructions
Melt butter in a medium saucepan over medium heat. Add shallots, and cook until softened, 3 to 4 minutes. Add flour, and cook, whisking constantly, for 1 minute. Add milk in a slow, steady stream, whisking constantly, until mixture comes to a boil. Reduce heat to low, and cook, whisking often until mixture has thickened for about 3 minutes.


Add crabmeat, Parmesan, minced parsley, lemon zest, and a pinch of cayenne. Remove from heat, and stir until combined. Season with salt and pepper. Spread mixture on a rimmed baking sheet, and let cool completely. (Cooled mixture can be covered and refrigerated for up to 1 day.)


Set a wire rack over a rimmed baking sheet. Whisk eggs in a shallow dish. Place breadcrumbs in another shallow dish. Shape cooled crabmeat mixture into 1-inch balls. Working with 1 ball at a time, coat in beaten egg, then in breadcrumbs. Transfer to rack. Repeat with remaining balls. Let stand, uncovered, at room temperature for 30 minutes.


Heat 4 inches of oil in a large, heavy pot until it reaches 190 degrees C. Working in batches, fry crab balls, turning once, until golden brown, 1½ to 2 minutes. (Adjust heat as necessary to keep oil at a steady temperature.) Using a wire-mesh skimmer, transfer crab puffs to paper towels to drain, and immediately season with salt.


Reduce heat until oil reaches 176 degrees C. Fry capers for 1 minute, and using a wire-mesh skimmer, transfer to paper towels to drain. Fry parsley leaves for 1 minute and using a wire-mesh skimmer, transfer to paper towels to drain. (The capers and parsley may cause the hot oil to spatter when added to the pot.) Sprinkle puffs with capers and parsley. Serve warm.
Sesame Salmon Croquettes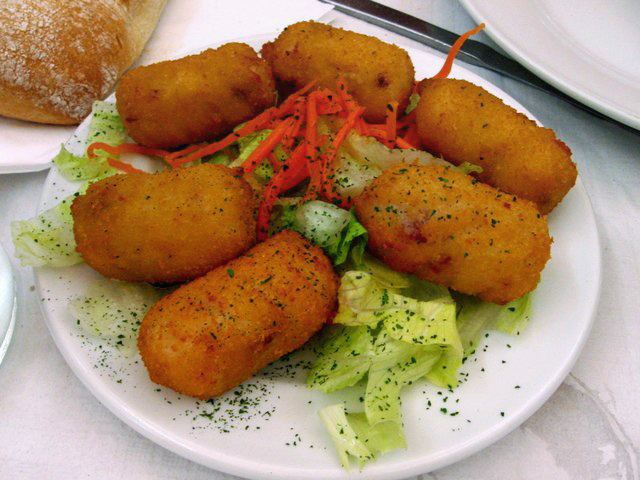 Sesame salmon croquettes
Ginger gives these nibbles a nice punch of flavour. If you cannot find fresh ginger you can substitute it for ground ginger.
Ingredients
1 lemon
2 tablespoons kosher salt
500g salmon fillets
2 & ½ cups panko breadcrumbs, divided
2 large eggs
2 green onions, thinly sliced
¼ cup chopped fresh cilantro
¼ cup mayonnaise
2 teaspoons loosely packed lime zest
2 tablespoons fresh lime juice
1 tablespoon finely grated fresh ginger
1 jar toasted sesame seeds (about 50g)
2 garlic cloves, minced
½ teaspoon kosher salt
¼ teaspoon freshly ground black pepper
⅓ cup butter, melted
Ginger Rémoulade
Instructions
Cut lemon in half. Squeeze juice from the lemon into a saucepan. Add lemon halves, 2 Tbsp. salt and 6 cups water and bring to a boil over medium-high heat. Add salmon fillet (cut into 2 pieces, if necessary); cover and reduce heat to low. Simmer 4 minutes. (Center of salmon will be raw.) Carefully transfer salmon to a large bowl, and cool completely (about 10 minutes). Remove and discard skin if necessary, and flake salmon.


Preheat oven to 220°C. Stir ½ cup panko and next 11 ingredients into flaked salmon.


Stir together melted butter and remaining 2 cups panko. Spoon 1 tsp. panko mixture into each cup of a lightly greased 24-cup miniature muffin pan. Add 1 Tbsp. of the salmon mixture to each muffin cup. Top each with 1 tsp. panko mixture.


Bake, in batches, at 220°C for 10 minutes or until topping is golden brown. Serve warm with Ginger Rémoulade.
Looking for more festive inspiration? Check out our roundup of Christmas Starter Recipes!